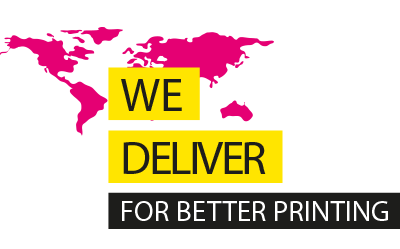 Inkjet technology has inspired Bordeaux's founders and the evolution of the company's products has been a direct result of the market demands. With our R&D team we are independent to pursue such solutions for applications that adopted digital printing in the forefront of technology.  The Digital printing applications are numerous and the list is long with more new applications emerging every day.
Bordeaux's primary market is the wide format graphics inkjet which was also the first to embrace digital applications. The shift from the cumbersome analogue printing to digital was natural because of its simplicity, cost effectiveness especially for short runs and its fine quality. These advantages made the difference for point of sale, outdoor advertising & billboards, forming and documents and recently direct inkjet printing on textile. The abundance of printing possibilities and ink types as well as the countless printer models inflated the demand for good quality inks which was a natural niche for Bordeaux.
However digital printing has many more frontiers; Industrial inkjet such as conductive inks for security and brand protection, 3D inkjet printing for prototyping, Packaging inkjet for flexible packaging, tags, labels and marking, electronic inkjet for LCD panels, printed circuit boards (PCB) and recently also in solar panels.  Newest applications include also digital printing for biological purposes for use in the medical industry.  These innovations are creating new challenges for Bordeaux in new markets.
Bordeaux is already working with leading global companies in diverse applications such as printing on textile for home furnishing applications, toys, fashion items and even printing on electronic devices for specific applications.
Bordeaux believes that once you master the art of inkjet ink manufacturing, perseverance enables adaptation to almost every application.
"Since changing to Bordeaux ink in my Mimaki JV3, I have seen a vast improvement in print quality, Color Gamut, and less maintenance on the printer. Not having to profile is GREAT!"
Phillip Williams, Las Vegas, NV